Superbly moist and creamy, this decadent chocolate cake gets its perfect texture from gorgeous, earthy beets. The taste is completely undetectable, only adding natural sweetness and desirable texture.
Ingredients:
Cake
1 cup beet puree (see instructions below)
2 tablespoons flax meal
4 tablespoons water
2 cups whole wheat flour (or gluten free, all-purpose flour)
1/3 cup cocoa powder
1 cup coconut sugar
1 1/2 teaspoons baking soda
1/2 teaspoon sea salt
1/4 cup olive oil
3/4 cup unsweetened almond milk
2 teaspoons pure vanilla extract
Chocolate Ganache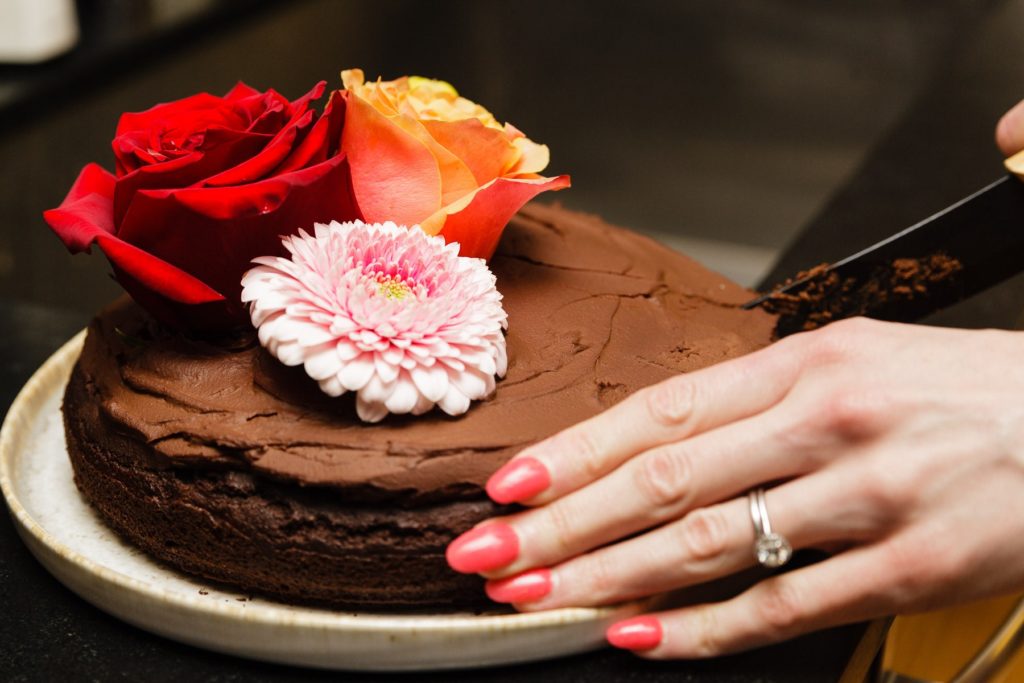 Instructions:
Beetroot Puree
Peel and quarter 3-4 medium sized beets (about 1 pound of beets). Steam the  beets for 15 minutes or until knife effortlessly pierces them. Add the cooked beets to a food processor or high-speed blender and blend until smooth. Measure out 1 cup and set aside.
Cake
Preheat the oven to 350° F. Prepare an 8″ round cake pan with parchment paper and grease around the side.
In a small bowl, combine the flax meal and water and let stand until thickened (5-10 minutes). Meanwhile in a large bowl, sift together flour, coconut sugar, cocoa powder, baking soda, and salt. Make a well in the centre and set aside.
In a small bowl, combine the flax mixture, beetroot puree, olive oil, almond milk and vanilla. Add the beet mixture to the flour mixture and stir just until combined.
Pour the batter into the prepared baking pan and smooth the top with a rubber spatula. Bake for 50-55 minutes (or until a toothpick inserted into the center comes out clean).
Remove the cake from the oven and let stand for 5 minutes. Carefully remove the cake form the pan, remove the parchment paper, and cool completely on a wire rack.
Ganache
Add the chocolate pieces to a medium sized heat proof bowl. In a small saucepan, gently heat the coconut milk until steaming (not boiling). Carefully pour the heated coconut milk over the chocolate and stir until all the chocolate is melted. Allow the ganache to thicken at room temperature for 40-50 minutes, stirring occasionally to avoid chunks of unmelted chocolate. (See notes)
Using a spatula, frost the cooled cake, decorate using freshly cut flowers, and serve.
Notes
If your coconut milk has separated during storage (it has a thick layer of fat and a watery layer), it's important that you mix it back together before measuring; simply whip it up in a blender or food processor.
The ganache may seem runny at first, but it will thicken to a spreadable texture after the alloted thickening time has passed.
To state the obvious: Discard flowers before consuming.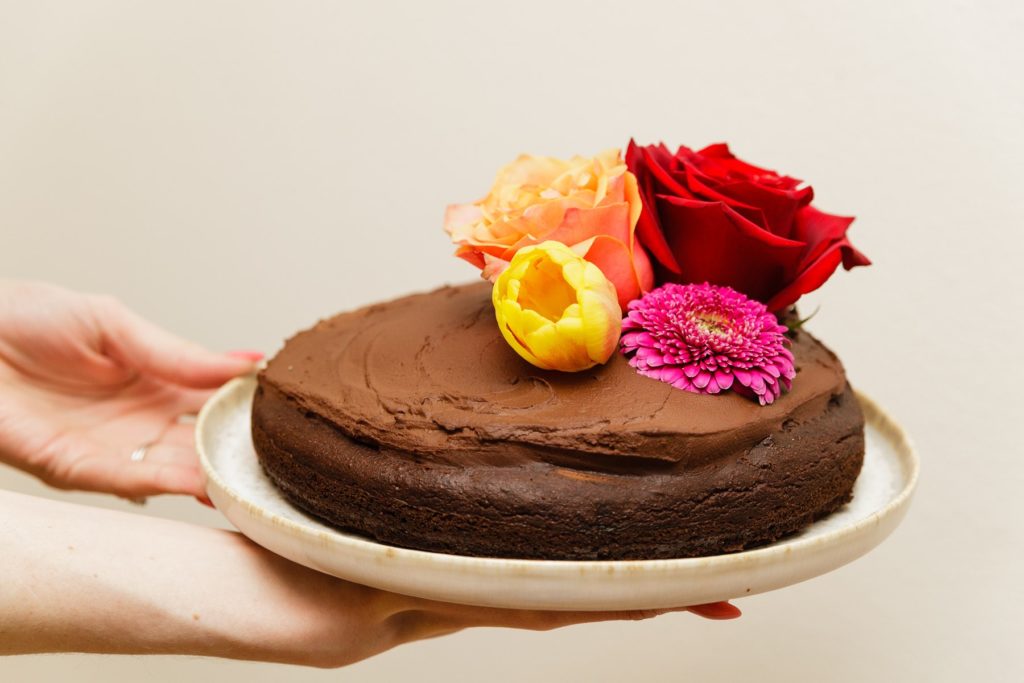 Enjoy!