Sometimes the simplest seasonal ingredients make the most exquisite dishes. My Simple Tossed Salad with Sautéed Summer Greens is just that: easy-to-source ingredients, prepared with care. Cooked vegetables are what take this salad up a notch, adding a heartier sensation and deeper flavor profile. I hope you enjoy this recipe as much as I do.
Ingredients:
3-4 cups of mixed greens.
1/2 cucumber, diced.
2-3 small tomatoes, diced.
1 small onion, diced (red, white, yellow..whichever you prefer).
1 clove garlic, minced.
1 large avocado, sliced (optional).
Balsamic vinegar.
Sea salt and fresh ground pepper.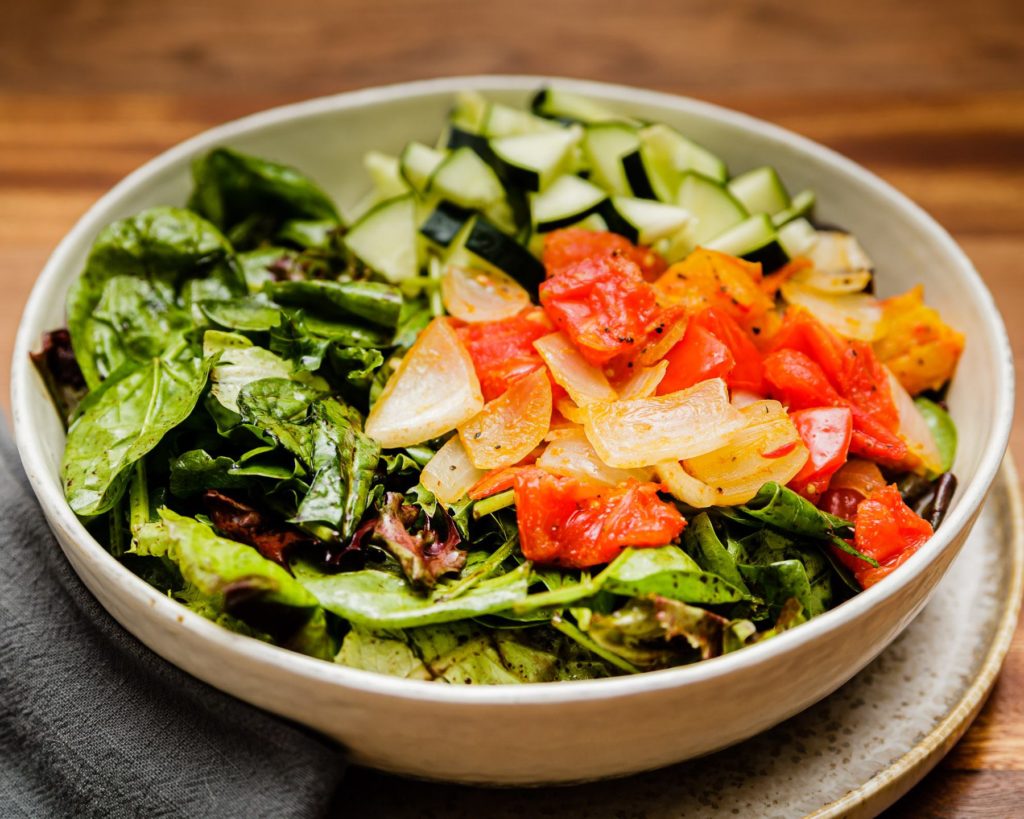 Instructions:
Wash greens, spin to remove excess moisture, and set aside.
In a medium pan, heat 1-2 tablespoons of olive oil on medium heat. Add onion and garlic, stirring until slightly brown. Add diced tomatoes and season with salt and pepper to taste. Cook onions, garlic, and tomatoes together for 2-3 minutes or until desired texture is reached.
In a large mixing bowl, add greens, chopped cucumber, and cooked vegetables. Toss with a drizzle of olive oil and balsamic, adding more if desired.
Finish with avocado slices and fresh cracked pepper. And most importantly, enjoy!

Notes from the kitchen:
If your tomatoes are ultra juicy, the cooked onion, garlic, and tomato mixture may come out watery. Try draining any excess liquid from the pan before adding the cooked vegetables to your salad or using a skimmer to remove them directly from the pan.
This recipe is delicious all on it's own, but if you're looking for a hit of plant-based protein, I suggest making my Zesty Lemon Herb Quinoa (V, GF) to mix in.