This salad was the result of a serious craving for winter vegetables. As I wandered through PCC Market in Fremont this morning, I couldn't help but eyeball the gorgeous displays of seasonal root vegetables, locally grown greens and beautiful bunches of fresh herbs.
Your tastebuds are in for a real treat with this exciting blend of savory vegetables, creamy tahini, crunchy walnuts and a burst of sweetness from the pomegranate seeds. It's the perfect dinner that can be assembled in less than an hour and will leave you with plenty of leftovers for days to come.
Ingredients
Salad:
1 bunch red kale
1 bunch lacinato kale
3 medium garnet yams
10 oz of tri-colored carrots
1 head cauliflower
15 brussels sprouts
1/4 cups mixed walnuts
1/3 cup pomegranate seeds
1/2 cup garbanzo beans, cooked and drained
3 tablespoons of finely chopped parsley
Olive oil
Salt and pepper to taste
Dressing:
1/2 cup raw tahini
3/4 cups warm water
3 tablespoons lemon juice
1 clove of garlic
Salt and pepper to taste
Directions:
Preheat oven to 425° F.
Prep roasted vegetables by cutting cauliflower, brussels sprouts, yams and carrots into bite sized pieces. Place on a nonstick baking sheet, drizzle with olive oil, salt and pepper and roast for 30-45 minutes depending on desired consistency.
Wash both bunches of kale and pat dry to remove any excess water. Trim the stem from the center of each leaf within bunch and discard. Tear leaves into small pieces.
In a large pan, sauté kale in 2 tablespoons of olive oil and a garnish of salt. Cook until tender.
In a high-speed blender or food processor add tahini, warm water, lemon juice, garlic, salt and pepper and blend until smooth.
To assemble, first place the kale onto a kitchen board or serving plate. Top with roasted vegetables and garbanzo beans. To finish, drizzle with tahini dressing and garnish with pomegranate seeds, toasted walnuts and fresh parsley.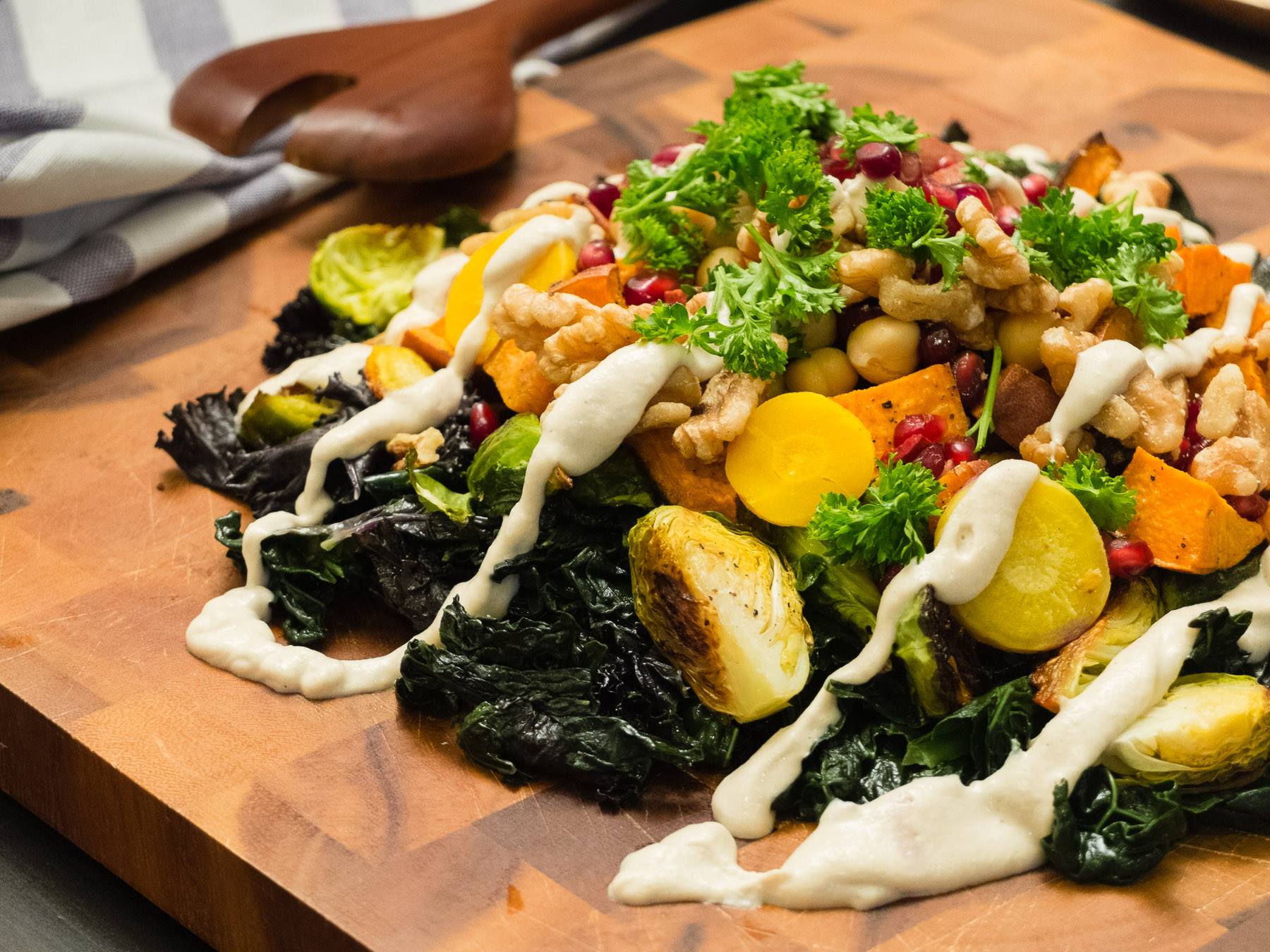 Enjoy this delicious salad that's packed with good-for-you ingredients!