These Oatmeal, Walnut, Chocolate Chip Cookies has been on repeat since the start of quarantine. My husband loves them and my 1 year old neighbor approves which is all the validation I need. This recipe is vegan, gluten free, and can be modified using similar ingredients you might have in your pantry (see 'notes' for more).
Ingredients:
1 cup quick cooking rolled oats
3/4 cup all-purpose, gluten free flour
1/3 cup coconut sugar
2 teaspoons baking powder
1 teaspoon baking soda
1/4 teaspoon fine sea salt
1/3 cup maple syrup
1/2 cup safflower oil
1 teaspoon vanilla extract
1/4 cup finely chopped walnuts
1/4 cup dark chocolate chips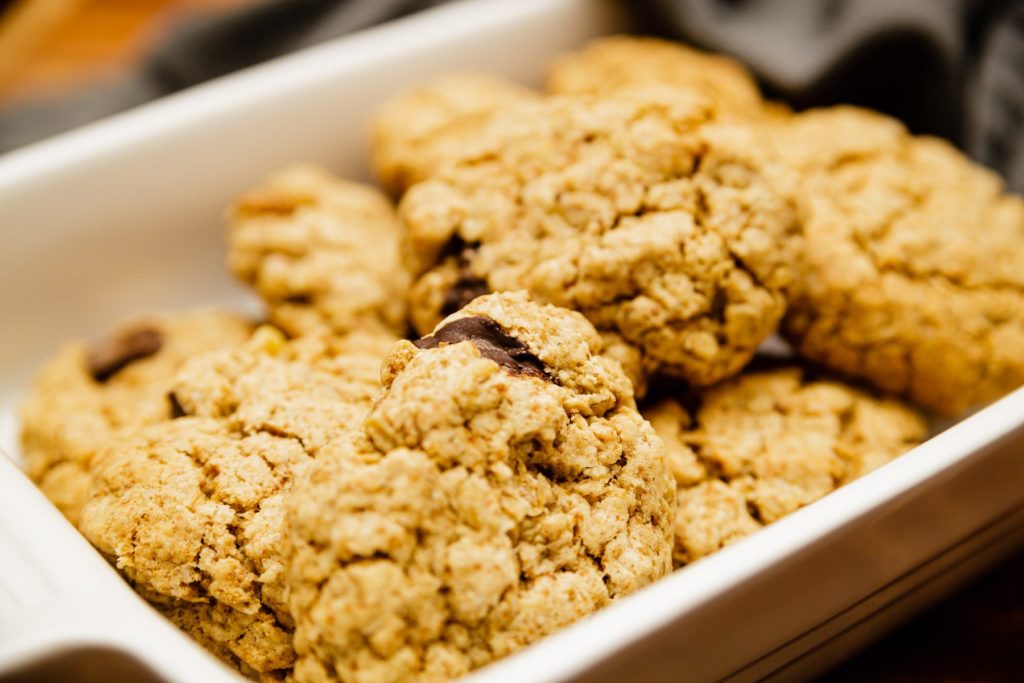 Instructions:
Preheat oven to 350°F. Line a baking sheet with a silicone baking mat. (Parchment paper works too.)
Begin by preparing a flax egg. Set aside. Combine the oats, flour, coconut sugar, baking powder, baking soda, and salt in a large bowl. In a separate bowl, combine the maple syrup, oil, flax "egg" and vanilla extract. Add the wet ingredients to the dry ingredients, and stir to combine. Fold in the chocolate chips and nuts.
Using your hands, roll tablespoon-size scoops of dough into balls. Place the balls onto the prepared baking sheet, and press down slightly on the balls to flatten the tops. Bake for 10 to 12 minutes or until lightly browned. Transfer cookies to cooling rack to cool completely.
Notes:
Makes 10-12 cookies.
I recently have taken a liking to Bob's Red Mill Gluten Free 1-to-1 Baking Flour which is what I used in this recipe. It mimics the texture of wheat flour better than many of the gluten free flours I've used in the past. You can find this product at most grocery stores.
You can easily swap the gluten free flour for regular flour if gluten isn't a concern. In addition, an egg can replace the "flax egg" if desired.
Enjoy!