It's no surprise that it's raining here in Seattle today. In fact, when spring arrives in the Pacific Northwest it entails just that. You can always expect a series of sporadic showers often proceeded by short but scintillating bursts of sunshine. As the rain came down by the bucketful this morning, I found myself thumbing through my cookbook shelf while waiting for the tea kettle to boil. I cracked open the spine of my first cookbook, My Father's Daughter, a gift from my grandmother for my 19th birthday.
I flipped aimlessly through the carefully curated recipes and meticulously crafted photos until I stumbled upon a recipe for oatmeal raisin cookies. My inspiration got the best of me (as it often does) and within minutes I set out by foot to my local PCC Market to gather any missing ingredients. After a few tweaks to Gwyneth's recipe and a complete disaster of a kitchen, the house was swirling with the divine scent of toasted nuts and saigon cinnamon. So finally, I give you the perfect weekend treat: Chewy Oatmeal Raisin Cookies. This recipe is dairy free, gluten free and completely, melt-in-your-mouth delicious!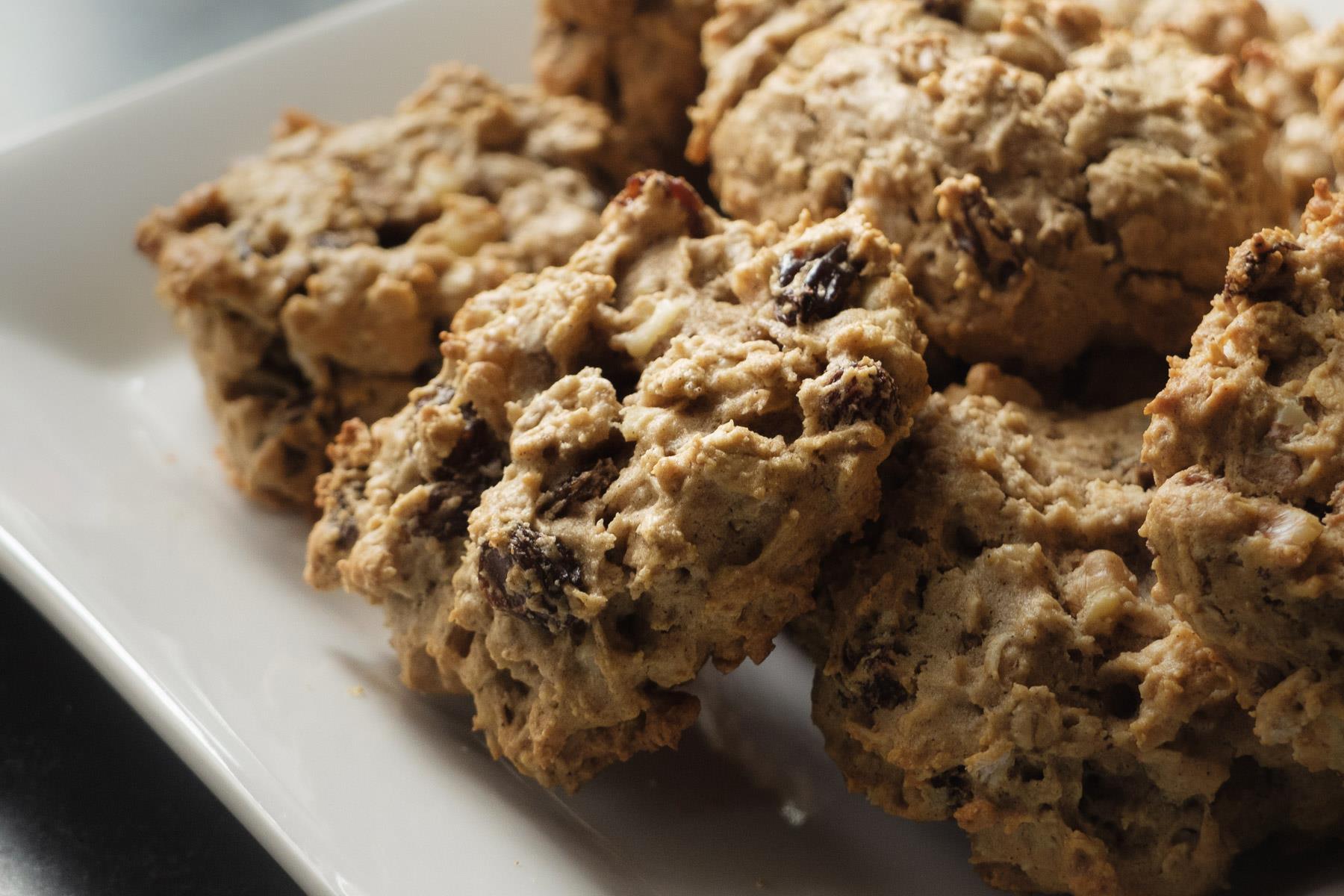 Ingredients:
1/2 cup raisins
3/4 cup toasted walnuts
1 cup whole rolled oats (not instant or steel-cut), divided
1 ¼ cup gluten free flour + 2 tablespoons
1 ½ teaspoons ground cinnamon
1 teaspoon baking soda
1/2 teaspoon fine salt
1/3 cup Earth Balance
1/3 pure maple syrup
1/3 brown rice syrup
2 teaspoons vanilla extract
2 large eggs
Instructions:
Preheat the oven to 350° F.
Line baking sheet with parchment paper.
Place raisins in a small bowl and cover with boiling to soften. Set aside.
Add 1/2 cup oats and walnuts to a food processor and pulse until finely ground.
Combine this mixture with the other dry ingredients in a large mixing bowl.
Mix wet ingredients in a separate bowl and then thoroughly combine the mixed wet ingredients with the dry.
Drain raisins and gently fold into the batter.
Drop the mixture by large spoonfuls onto the parchment lined baking sheets.
Bake for 13-15 minutes until browned and then remove to a cooling rack.