Unique, delicious, and rich in both hue and nutritional value, the Okinawan sweet potato is something to behold. With the help of a few pantry staples, you can transform this vibrant root vegetable into a crowd-pleasing recipe.
A brief history: unlike the rest of Asia, the Okinawan staple is not rice, but (you guessed it) the sweet potato, first introduced in the early 17th century through trade with the Netherlands. Okinawans also eat an abundance of green and yellow vegetables and various soy products. Although they do eat pork, fish and other meats, these are typically a small component of their overall consumption, which is mostly plant-based foods.
Okinawa is also one of the world's Blue Zones. For more information on these fascinating regions, read my recent blog post here.
Ingredients:
5 large purple potatoes, diced and boiled until just cooked through
1 cup unsweetened soy milk (almond, hemp, or oat work too)
2 tablespoons vegan butter (Miyoko's is my favorite! Earth Balance is great too.)
2 tablespoons 100% maple syrup
1 teaspoon ground cinnamon
Salt and fresh ground black pepper to taste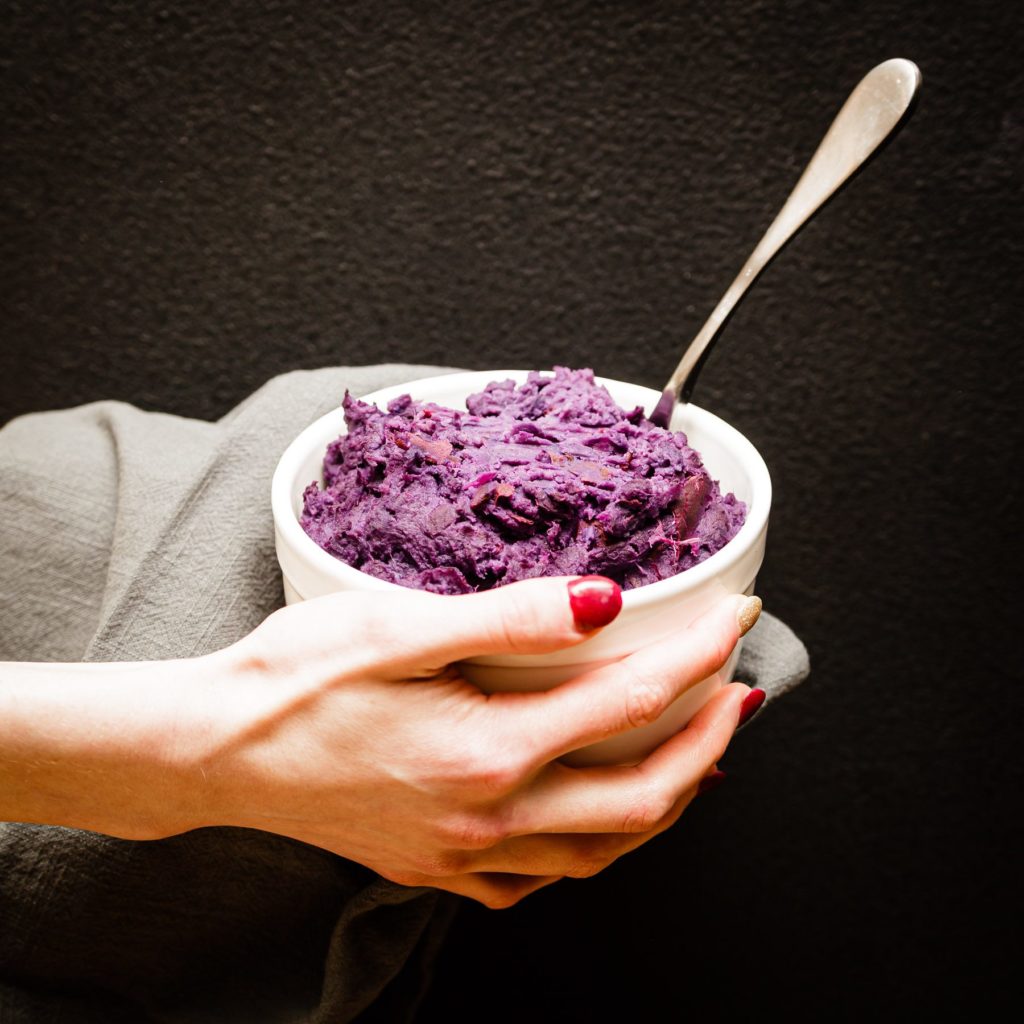 Instructions:
Dice potatoes into medium-sized chunks and place in a large pot of water.
Place pot over high heat and bring to a boil. Boil potatoes until tender. (About 20 to 25 minutes.)
Drain potatoes and place back into the pot. Add soymilk, vegan butter, maple syrup, cinnamon, and a pinch of salt. Mash with a potato masher or with an electric hand mixer until desired consistency has been achieved. Enjoy!
Notes from the kitchen:
For creamier potatoes, add an additional 1/4 – 1/2 cups soymilk (or plant milk of choice).
For extra sweetness, add 1-2 additional tablespoons maple syrup.
Peel the potatoes and discard the skin before boiling if desired. For this recipe, I kept the skin intact.