'Tis the season to eat, drink and be merry! As we dive into this joyful and indulgent time of year, it's also important that we stay mindful of our health. Below are a few of my favorite tips to stay well during the holiday season as well as a recipe for my Healthy Gingersnap Cookies.
Rest & Relaxation: 
Focus on getting 8 hours of deep, restorative sleep every night. This helps with handling seasonal stressors and social events.
Implement a stress-reducer into your daily routine. This could be anything from taking a yoga class to spending 10-20 minutes reading your favorite book.
Step away from technology for at least 20 minutes every day. Give your mind a break from the constant stream of emails, texts, phone calls and social media notifications.
Fitness:
Include some sort of physical activity into your daily routine. Right now I'm really enjoying hot yoga and quick 20 minute jogs around my neighborhood. This helps me feel focused and energized in spite of the seasonal stress.
Listen to your body. Your body might crave an intense cardio workout one day and need something more restorative the next. Don't push yourself to do something aren't up for. Your workout should leave you feeling energized, not more exhausted and drained.
Stick to a fitness routine. This means moving out of the holiday season with ease. There's no need to make any harsh New Years resolutions when you're already taking care of your health.
Food:
Prioritize healthy eating but make room for mindful indulgences. There's no reason you should restrict yourself from enjoying traditional family recipes and seasonal indulgences. Restriction and deprivation will leave you feeling frustrated and can lead to overeating later.
Be selective with your indulgences. I'm happy to pass on most holiday sweet treats and seasonal alcoholic beverages, but I definitely savor peppermint hot chocolate this time of year. It's about finding the things you look forward to the most and enjoying them in moderation and without guilt.
If you splurge, move on! There is no such thing as a perfect diet anyway. Moderation is the key.
Tips & Tricks:
Eat a pre-event snack. I often have a protein-rich snack before heading to a party or event. Arriving satiated and satisfied helps me make mindful food choices.
Take advantage of holiday festivities. Take part in a holiday fun run with friends and family. Cruise your neighborhood by foot to enjoy the Christmas lights. Meet a friend for a yoga class before going to a holiday event. There are plenty of ways to stay active and connected this time of year!
Make healthy versions of your favorite treats. There are thousands blogs, websites and links on Pinterest with healthy alternatives to classic dishes. There's something for everyone, including those who might opt to eat: gluten free, vegan, diary free, soy free and refined sugar free.
With that I finally give you these incredible Healthy Gingersnap Cookies. They're the perfect blend of dark molasses, sweet coconut sugar and aromatic spices.
Ingredients:
2 cups gluten free, all-purpose flour (or regular all-purpose flour)
1 1/2 teaspoons baking soda
1/2 teaspoon salt
1/2 teaspoon ground ginger
1/2 teaspoon ground cloves
1/4 teaspoon nutmeg
1 teaspoon cinnamon
1/2 cup coconut sugar
6 tablespoons Earth Balance butter or refined coconut oil
6 tablespoons blackstrap molasses
1 egg (or equivalent in egg replacer)
1 teaspoon of orange zest
2 tablespoons of raw sugar for coating
Instructions:
Preheat the oven to 350° F (176° C).
In a medium mixing bowl whisk together flour, baking soda, salt and spices. Set aside.
In a separate bowl combine coconut sugar, oil, molasses, egg and orange zest.
Mix all ingredients together until thoroughly combined.
Form dough into 1 1/2 – 2 inch balls and roll them in raw sugar.
Flatten dough with the palm of your hand onto a pre-oiled baking sheet.
Bake cookies for 6-9 minutes. Let them sit on the baking sheet for an additional 3 minutes before transferring them to a wire rack to cool completely.
Happy holidays!
Note: If you're opting to make these cookies with gluten free flour, I suggest chilling the dough for 1-2 hours before forming cookie dough balls. It is also likely that you will not have to flatten the gluten free cookie dough with your palm before baking.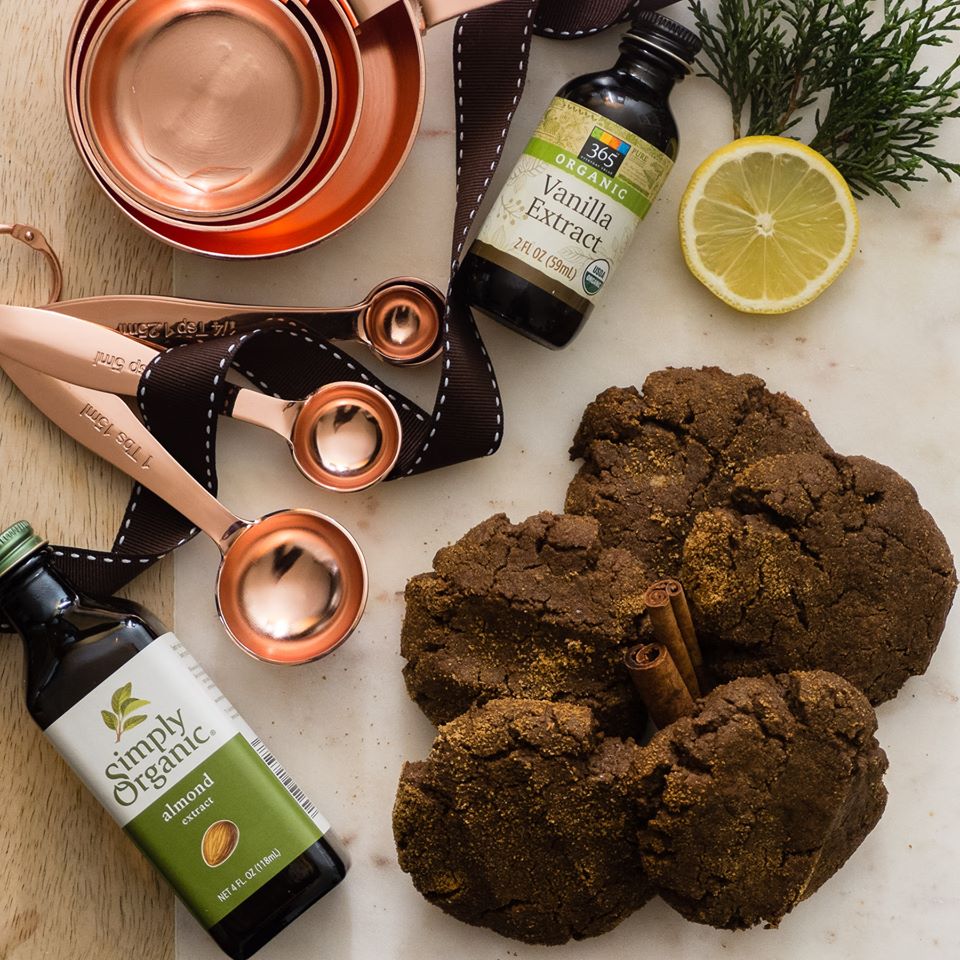 Recommendations:
Kelapo Coconut Oil Cooking Spray
Pictured:
Crate and Barrel Copper Measuring Spoons
Crate and Barrel Copper Measuring Cups
Crate and Barrel Wood-Marble Square Platter
Whole Foods 365 Organic Vanilla Extract