Almond biscotti always reminds me of my grandma Marilyn who is quite possibly the classiest woman I've ever known. Aside from her willowy, Audrey-Hepburn-esque figure and immaculate cardigans and polo shirts, she is also a phenomenal home chef. There isn't a childhood memory that I have of spending time at my grandparent's house that doesn't involve some sort of kitchen project. I have no doubt that my passion for food was first kindled in their kitchen.
These Vegan + Gluten Free Almond Biscotti are the closest contender to my grandma's original recipe. I hope you enjoy them (with a steamy espresso) as much as I do!
Ingredients:
¾ cup sliced almonds
¾ cup almond flour
½ teaspoon baking soda
½ teaspoon baking powder
½ teaspoon salt
½ teaspoon cinnamon, ground
1/3 cup almond milk
1/3 cup vegan butter substitute, melted (I used Earth Balance)
2 teaspoons pure vanilla extract
1 teaspoons almond extract
¾ cup coconut sugar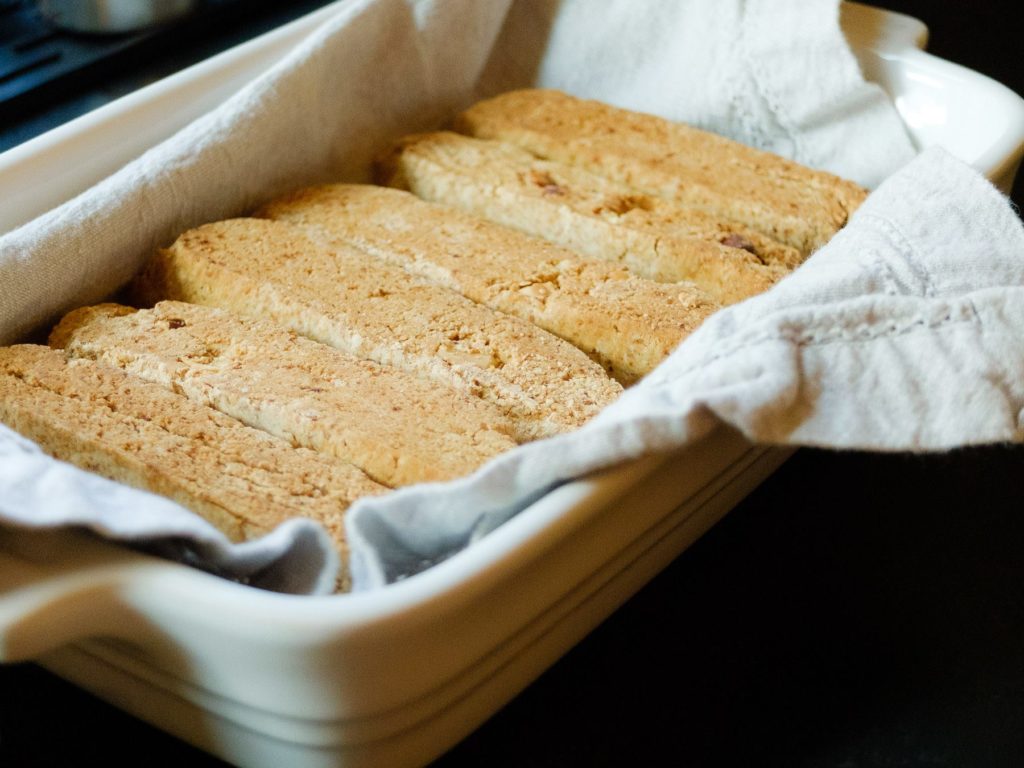 Instructions:
To toast the sliced almonds, preheat oven to 325° F.
Spread the almonds out evenly on a baking sheet, and bake for 9 minutes. Set the timer and check frequently to make sure the almonds do not burn.
When the almonds are done toasting, set them aside and turn up the oven to 350° F.
Line a baking sheet with a parchment paper or silpat.
In a large mixing bowl combine dry ingredients: gluten free all-purpose flour, almond flour, baking soda, baking powder, salt, cinnamon and nutmeg. Whisk together thoroughly.
Stir the toasted sliced almonds into the dry ingredients.
In a medium size mixing bowl combine wet ingredients: almond milk, melted vegan butter and vanilla & almond extract. Add the coconut sugar, and stir to combine.
Make a well in the center of the dry ingredients. Pour the wet ingredients into the well, and gently stir to combine the wet and dry ingredients together, being careful not to over-stir.
Toward the end of the mixing use your hands to gently knead the dough together.
Form a log with the dough and place onto the lined baking sheet.
Using a piece of parchment paper and a rolling pin (or hands), gently roll the log to flatten out slightly.
Score the log where you will later cut into biscotti slices. Using a knife make light lines about every ¾ inch. This will help to cut the biscotti when the logs are done baking.
Bake the log for 30 minutes at 350° F.
Allow the log to cool for 10 minutes before handling, and turn the oven down to 325° F.
With a serrated knife, using a sawing motion cut the biscotti along the score marks.
Place biscotti cut side up back onto the baking sheet.
Bake for 10 minutes at 325° F.
When the biscotti are cool enough to handle move them to a cooling rack. When the biscotti are completely cooled, store in an airtight container. Enjoy!