Vegan or not, I know you will devour this Caramelized Onion & Eggplant Pasta Marinara. It's everything you'd want from a pasta dish: decadently rich, perfectly cheesy, and delightfully satisfying. With only a few fresh ingredients needed, this makes for a quick and simple weeknight dinner with ample leftovers for the rest of the week.
Ingredients
1 medium yellow onion, diced.
4 cloves garlic, minced.
4 cups white mushrooms, sliced.
2 large pre-salted eggplants, cubed.*
1 teaspoon oregano.
1/2 teaspoon thyme.
Salt and pepper to taste.
Olive oil.
1, 8 oz package of penne, cooked.*
1 package of The Meatless Farm Co. meatless grounds (optional).
2, 25 oz jars of marinara of choice.
Plant-based cheese to garnish (optional).
* = see notes at the bottom of the post.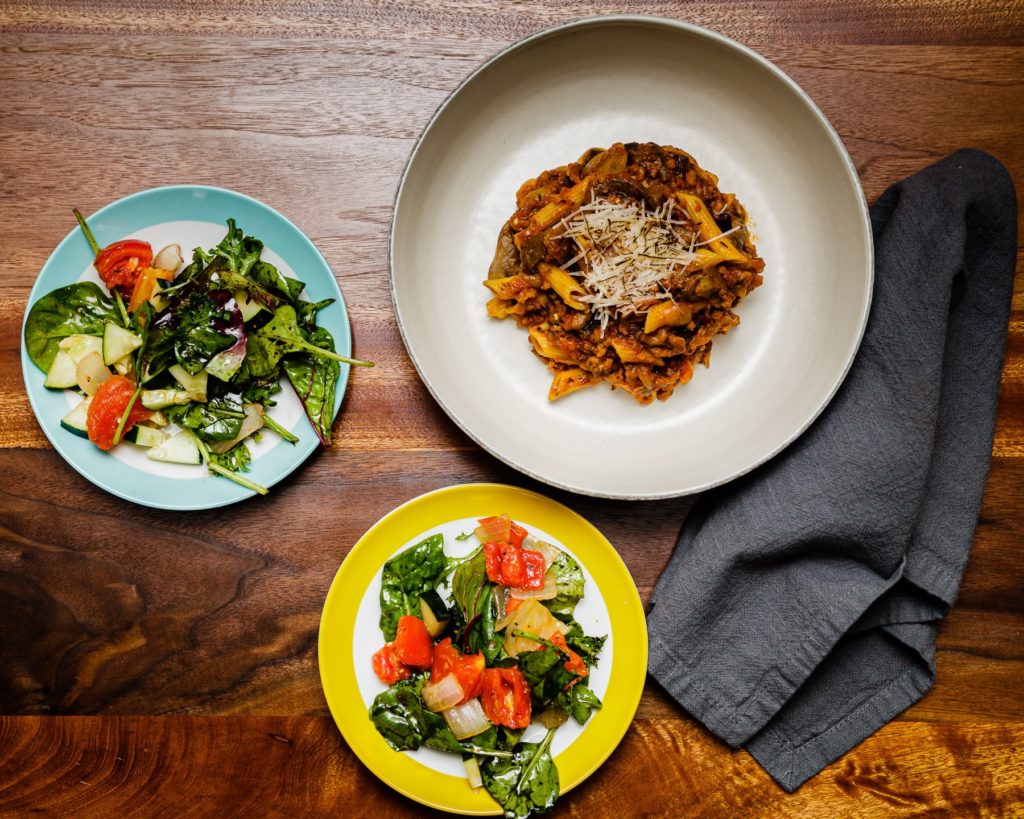 Instructions
In a large pot, sauté onion and garlic in a generous drizzle of olive oil until lightly browned (about 5-7 minutes on medium heat). Add sliced mushrooms, pre-salted and rinsed eggplant*, oregano, thyme, and a pinch of salt, sautéeing for an additional 5-7 minutes.
Prepare meatless grounds (or protein of choice) according to the instructions on the box.
Prepare pasta of choice according to the instructions on the box, drain, and set aside.
Add cooked grounds, drained pasta, and marinara to the sautéd eggplant and onion mixture. Stir all ingredients thoroughly, cover, and let simmer on low (checking/stirring periodically) for at least 20 minutes.
Plate and garnish with plant cheese if desired (Violife makes a great vegan parmesan).
Store leftovers in an airtight container in the fridge for up to 5 days.

Notes from the kitchen:
Eggplant:
Salting your eggplant prior to cooking draws out any excess bitter taste. Follow these instructions from MyRecipes.com:
"To salt eggplant, peel and cut it in whatever size and shape pieces the recipe calls for. Place it in a colander, sprinkle generously with salt (don't worry, you'll be rinsing most of it off before you cook it) and let it sit for about an hour. Before using, thoroughly rinse the eggplant and pat it dry."
Pasta:
To make this recipe gluten free, use gluten free penne. I prefer the brand Ancient Harvest for gluten free pasta products. If gluten is not a concern/allergy, any plant-based pasta of choice will work.