Here I am again, rounding up all of my favorite things from this month to share with you. This month is multifarious and contains everything from French skincare to my mediocre gardening skills. Enjoy!
Listening:
The Simple Sophisticate Podcast
I'll simply leave you with the description provided by the podcast host (also wonderful author and blogger) Shannon Ables.
"The simple sophisticate is someone who prefers quality over quantity, sensible living over mindless consumption, personal style instead of trendy fashions, has an insatiable curiosity for life's endless questions and a desire to live a truly fulfilling life rather than being led around by the nose. Inspired by her lifestyle blog The Simply Luxurious Life, Shannon Ables (the original Simple Sophisticate) shares with listeners tips on how to live a refined life on an everyday income. From achieving your goals, preparing a memorable meal, creating a capsule wardrobe, traveling the world (Francophiles tune in as Paris is a favorite destination), and living life to the fullest without breaking the bank, living well is really quite simple."
This podcast is all-encompassing, realistic and inspiring for all ages and walks of life. Able's demeanor is positive and genuine, and I feel like I'm listening to a close friend when I tune in weekly.
I stumbled upon jazz vocalist, Emilie-Claire Barlow's, music nearly 10 years ago. Her lithe yet warm vocals have since been the subtle background to many of dinner parties and quiet afternoons spent at home. Toronto born, you can expect an eclectic mix of French and English.
Reading:
Where The Crawdads Sing by Delia Owens
While I'm not usually one for fiction (I know, I'm trying), this novel came via the recommendation of a family member and The New York Times Book Review, so I'm taking a stab at it. I won't say much, as I'm only about one-third of the way through, but thus far, it's an immersive coming of age story intertwining a vivid ode to nature.
I've read many of esteemed psychologist, Martin Seligman's, books including Authentically Happy and Learned Optimism. While this book is much more research-forward than most self-help books (specifically within the text itself), it still provides readers with applicable takeaways and a comprehensive overview of the field of positive psychology. I also found the notes in the appendix quite helpful and interesting for further research.
Watching:
I devoured Liane Moriarty's novels The Husband's Secret, Truly, Madly, Guilty, and of course, Big Little Lies. So when HBO decided to bring this coveted story to the screen in 2017, I was definitely intrigued. While I only started watching it last month (a little late to the game, I know), I'm already impressed by the dark, comedic storyline laced together with the complex, multifaceted characters.
After seeing each other for the first time in years on separate work assignments in Paris, former lovers, Sophia and Yves, rekindle their romance in an affair that takes them across France from Normandy to St. Tropez. The simplistic, black and white cinematography makes for transcendent love story filled with romance, style, and unrepentant passion. I watched this film when it premiered nearly 8 years ago and continue to watch it at least once a year for its artistic allure and inspiration.
Little Joys:
Avène Hydrance Rich Hydrating Cream
My dry, sensitive skin luxuriates in relief that this simple moisturizer provides. As a coveted French pharmacie essential, this long-lasting, hypoallergenic, and non-comedogenic formula restores and maintains skin's hydration. I use this in the morning under my sunscreen and at night after cleansing.
I finally gave in to all the buzz surrounding this cult-classic product on a recent trip to Hong Kong. This multipurpose mist is crafted using potent plant extracts including polyphenol-rich green grape, rosemary, orange flower, and rose. Simply shake and spray over your face, neck and décolleté to prep the skin, set your makeup or simply refresh. The glass bottle looks elegant on your countertop or bedside table too.
When it comes to fragrance, I tend to gravitate towards more masculine, earthy scents over floral or fruity. (For reference, Tabacco Vanille by Tom Ford has long been a favorite.) I recently stumbled upon this Mixologie rollerball when shopping for a travel-size scent. It encapsulates all of my favorite notes including vanilla bean, smokey musk, amber, sandalwood, white oak, aged bourbon, tobacco flower, and tonka, and does so in a subtle, non-overbearing manner.
Savoring:
Pumpkin Chocolate Chip Cookie Bars
The only joy I obtain from summer, is the fact that autumn is right around the corner. For whatever the reason – whether it's my Northern European lineage or strong sensitivity to the sun – I simply do not thrive in warm weather. So, until my beloved overcast days return and the wool sweaters reappear from the depths of my closet, I'll be baking my pumpkin treats (all of which you can find on here) and scrolling through Pinterest looking for autumn inspiration.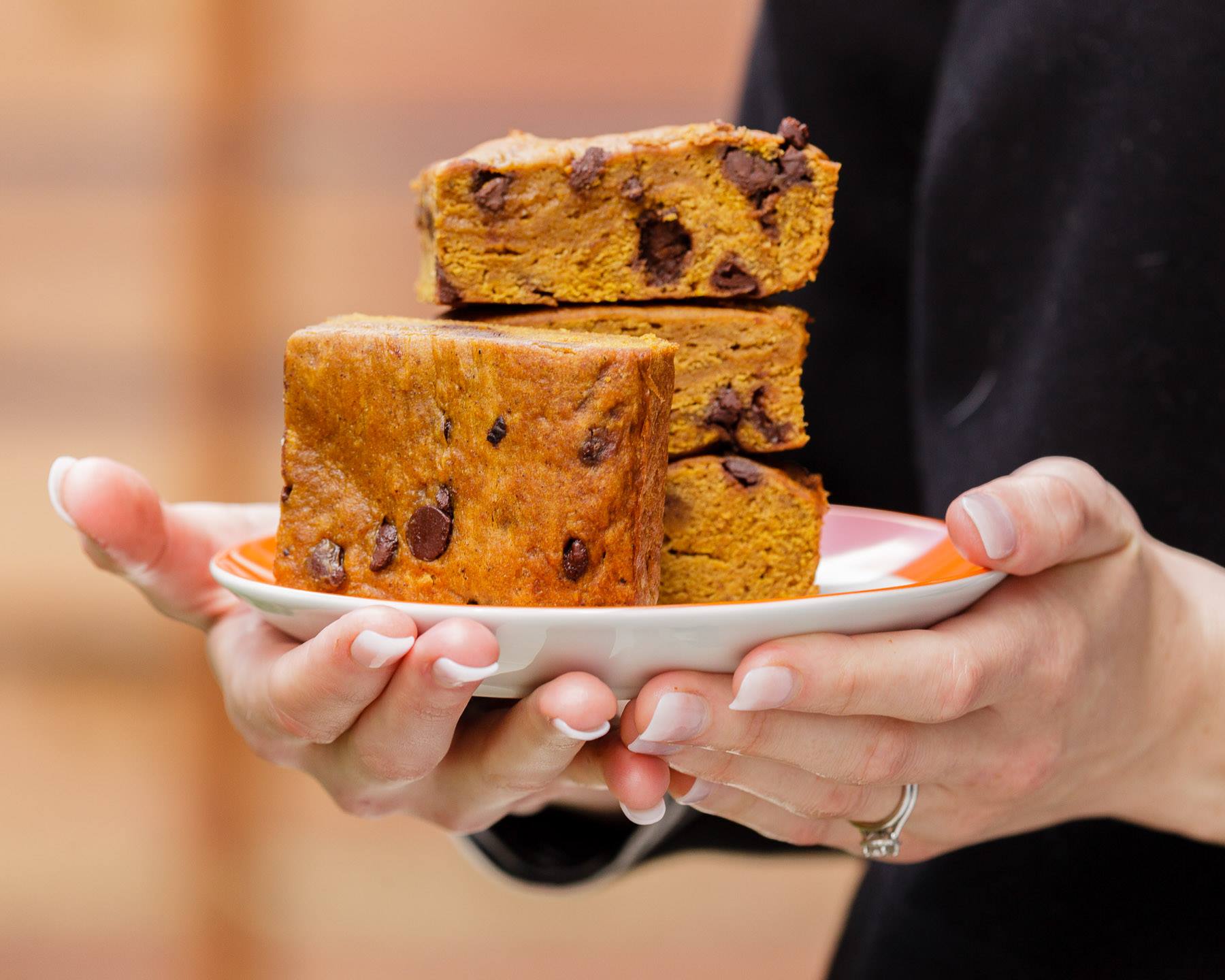 Gardening
I recently took it upon myself to find flowers and vegetables that thrive with a dose of the morning sun, but primarily prefer a shaded environment. (Those are the attributes that constitute my tiny container garden here in the city.) It turns out that hydrangeas and kale fancy just that.
So far, everything seems to be thriving. However, from what I've read, these plants are quite resilient. Don't get the wrong impression, I am certainly not the pinnacle of domesticity.
What have you been loving this month? Be sure to share with me in the comments below or on Instagram or Facebook. I really enjoy hearing from you!
Wishing you a wonderful rest of the week.